Remote Workforce Housing Rentals in Arizona
Temporary 123 understands the importance of providing adequate rest for your workers in Arizona after a long day at the worksite. Hence, we offer top-notch remote construction facilities that are complete with turnkey services, permits, rentals, and security through our Remote Workforce Housing program. Whether it's during emergencies or regular operations, we can set up remote workforce housing wherever you need it in Arizona.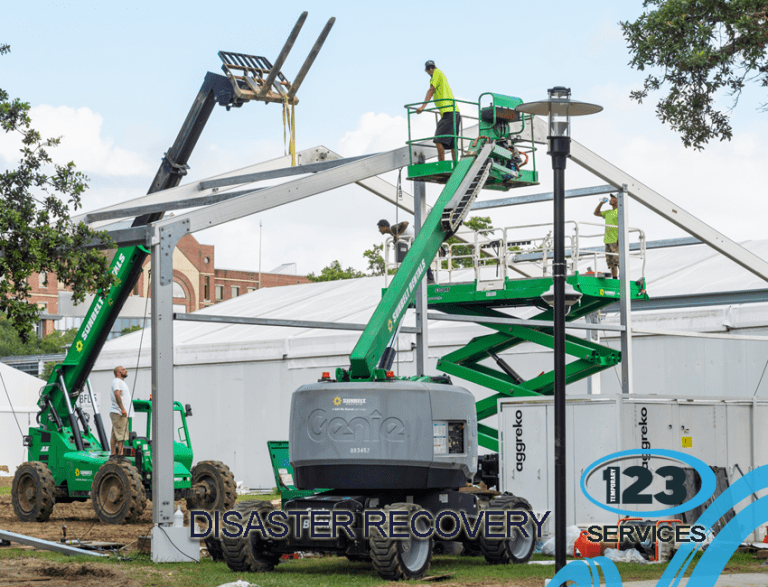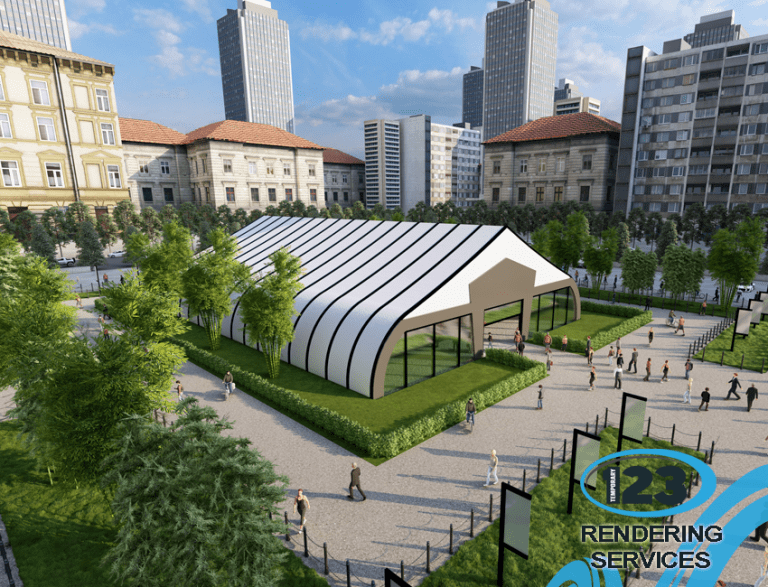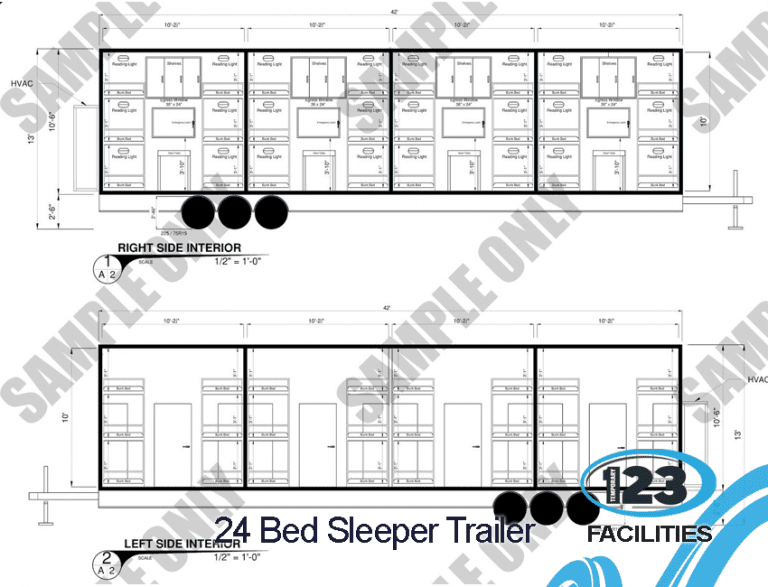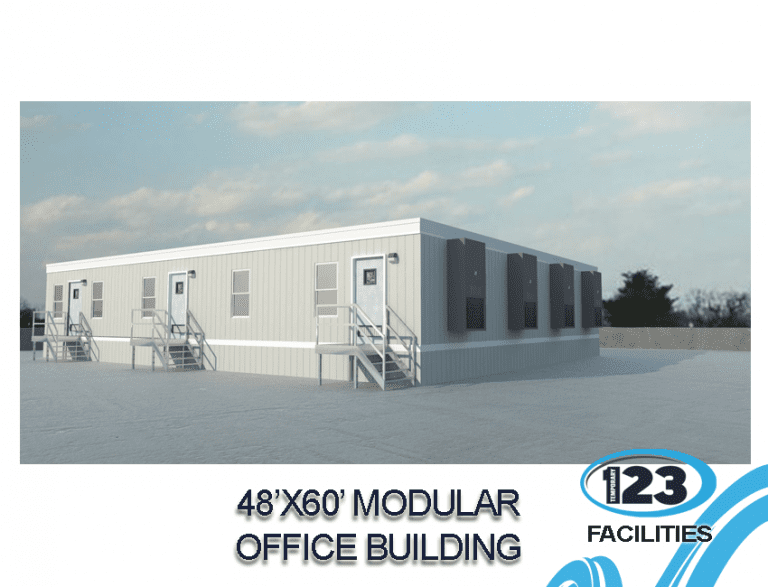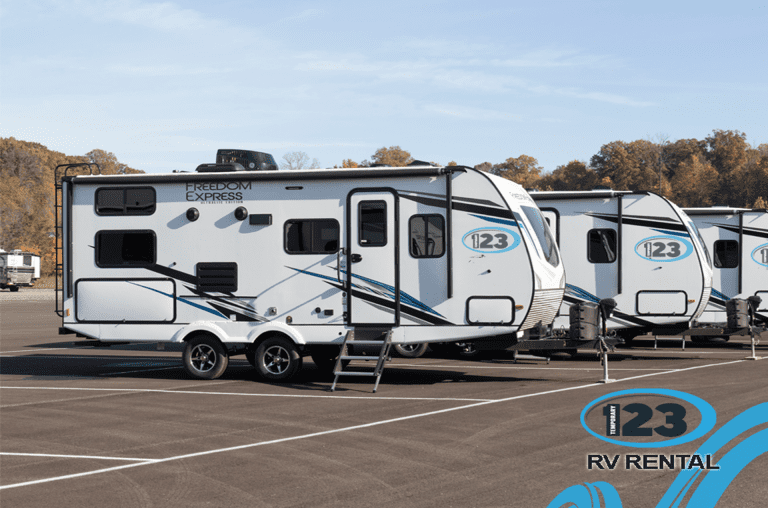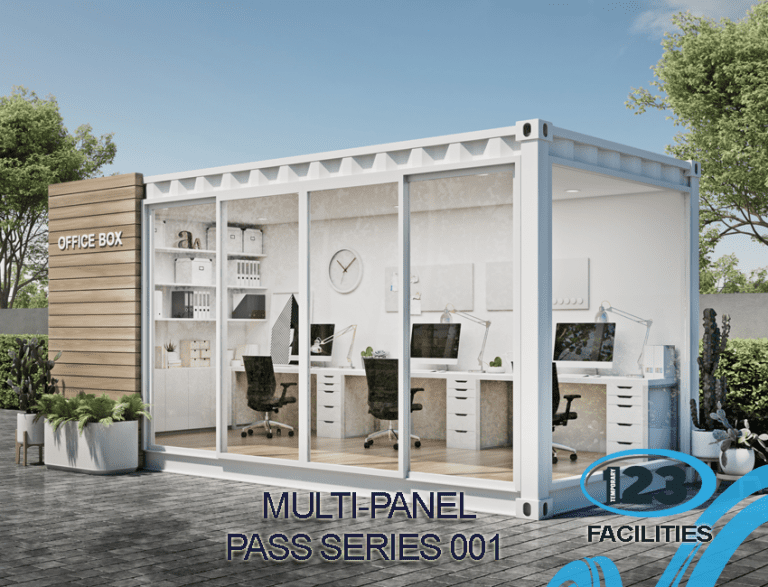 Services Offered by Temporary 123
Meticulously Designed Emergency Sleeping Facilities
Our emergency remote sleeping facilities are meticulously designed to minimize noise and maximize comfort, ensuring that your crew in Arizona gets the rest they require to stay happy, healthy, and productive. With a variety of bedroom layouts available, our standard fleet can handle any job, regardless of size or complexity.
Comprehensive Turnkey Service
We take pride in delivering comprehensive turnkey services to ensure that every aspect of your remote construction facilities in Arizona is taken care of. From acquiring permits to providing reliable and secure rentals, our team of experts is here to assist you every step of the way.
Workforce Sleeper Trailer for Remote Housing
Companies and groups in Arizona in need of remote housing for their staff can greatly benefit from our Workforce Sleeper Trailer. Equipped with comfortable sleeping quarters, climate control, and ample storage space, your team will be well-rested and ready for the day ahead. Our Temporary 123 Sleeper Trailers are designed for easy transportation and quick setup at any job site in Arizona. The trailer features a full bathroom with a shower, a kitchenette area with a microwave and refrigerator, and a cozy sleeping area with bunk beds. Our workforce sleeper trailer is ideal for construction crews, disaster relief workers, and other industries in Arizona that require remote accommodations.
Multi-Pass Modular Series for Enhanced Facility Needs
For those in Arizona seeking to enhance their remote building facility needs, the Temporary 123 Multi-Pass Modular Series is the perfect solution. Offering a range of benefits, these structures ensure that your organization is fully operational from the moment you move in. With customizable open span configurations, the Multi-Pass Modular Series can accommodate various requirements, providing you with endless options. Whether you need additional office space, workshop areas, or storage and warehousing, the Multi-Pass can fulfill all your project needs and more in Arizona.
Exceptional Customer Service
At Temporary 123, we are dedicated to providing our clients in Arizona with the highest quality remote construction facilities and exceptional customer service. We understand the importance of ensuring that your workers get the rest they need to maintain productivity and efficiency on the worksite. Contact us today to learn more about how we can help meet your remote workforce housing requirements in Arizona.
ARIZONA CITIES THAT WE SERVED
Phoenix, AZ
Tucson, AZ
Mesa, AZ
Chandler, AZ
Scottsdale, AZ
Glendale, AZ
Gilbert, AZ
Tempe, AZ
Peoria, AZ
Surprise, AZ
San Tan Valley, AZ
Yuma, AZ
Avondale, AZ
Goodyear, AZ
Buckeye, AZ
Flagstaff, AZ
Casas Adobes, AZ
Casa Grande, AZ
Lake Havasu City, AZ
Queen Creek, AZ
Catalina Foothills, AZ
Maricopa, AZ
Marana, AZ
Prescott Valley, AZ
Oro Valley, AZ
Sierra Vista, AZ
Prescott, AZ
Apache Junction, AZ
Bullhead City, AZ
Sun City, AZ
El Mirage, AZ
San Luis, AZ
Drexel Heights, AZ
Sahuarita, AZ
Kingman, AZ
Fortuna Foothills, AZ
Florence, AZ
Sun City West, AZ
Fountain Hills, AZ
Anthem, AZ
Green Valley, AZ
Nogales, AZ
Rio Rico, AZ
Eloy, AZ
Flowing Wells, AZ
New River, AZ
Somerton, AZ
Douglas, AZ
Sierra Vista Southeast, AZ
Fort Mohave, AZ
Payson, AZ
Tanque Verde, AZ
Sun Lakes, AZ
Paradise Valley, AZ
Vail, AZ
Coolidge, AZ
New Kingman-Butler, AZ
Verde Village, AZ
Saddlebrooke, AZ
Cottonwood city, AZ
Valencia West, AZ
Tucson Estates, AZ
Gold Canyon, AZ
Tucson Mountains, AZ
Chino Valley, AZ
Show Low, AZ
Camp Verde, AZ
Arizona City, AZ
Sedona, AZ
Safford, AZ
Winslow, AZ
Corona de Tucson, AZ
Tuba City, AZ
Picture Rocks, AZ
Golden Valley, AZ
Wickenburg, AZ
Page, AZ
Globe, AZ
Tolleson, AZ
Youngtown, AZ
Catalina, AZ
Guadalupe, AZ
Village of Oak Creek (Big Park), AZ
Avra Valley, AZ
Litchfield Park, AZ
Snowflake, AZ
Cave Creek, AZ
Citrus Park, AZ
South Tucson, AZ
Kayenta, AZ
Williamson, AZ
Rincon Valley, AZ
Bisbee, AZ
Thatcher, AZ
Holbrook, AZ
Summit, AZ
Paulden, AZ
Eagar, AZ
Doney Park, AZ
Colorado City, AZ
Benson, AZ
Lake Montezuma, AZ
Three Points, AZ
San Carlos, AZ
Pinetop-Lakeside, AZ
Clarkdale, AZ
Chinle, AZ
Taylor, AZ
Fort Defiance, AZ
Red Rock CDP, AZ
Dewey-Humboldt, AZ
Whiteriver, AZ
Oracle, AZ
Carefree, AZ
Avenue B and C, AZ
Quartzsite, AZ
Clifton, AZ
San Manuel, AZ
Lake of the Woods, AZ
Willcox, AZ
St. Johns city, AZ
Timberline-Fernwood, AZ
Cornville, AZ
Williams, AZ
Parker, AZ
Kachina Village, AZ
Superior, AZ
Wellton, AZ
Whetstone, AZ
White Mountain Lake, AZ
Mohave Valley, AZ
Valle Vista, AZ
Central Heights-Midland City, AZ
Ajo, AZ
Black Canyon City, AZ
Cordes Lakes, AZ
Desert Hills, AZ
Pima, AZ
Linden, AZ
Heber-Overgaard, AZ
Sacaton, AZ
Sells, AZ
Window Rock, AZ
Kearny, AZ
Rio Verde, AZ
Bagdad, AZ
Springerville, AZ
Fort Valley, AZ
Grand Canyon Village, AZ
Dolan Springs, AZ
Cienega Springs, AZ
North Fork, AZ
Gila Bend, AZ
Huachuca City, AZ
Miami, AZ
First Mesa, AZ
Joseph City, AZ
Mayer, AZ
Congress, AZ
Cibecue, AZ
Second Mesa, AZ
Lukachukai, AZ
Scenic, AZ
Kaibito, AZ
Tonto Basin, AZ
Blackwater, AZ
Beaver Dam, AZ
Pine, AZ
Spring Valley, AZ
Canyon Day, AZ
Pinetop Country Club, AZ
Mountain View Ranches, AZ
Mammoth, AZ
Meadview, AZ
Morenci, AZ
St. David, AZ
Star Valley, AZ
LeChee, AZ
Peridot, AZ
Mescal, AZ
Parks, AZ
Peach Springs, AZ
Cactus Flats, AZ
Tsaile, AZ
Donovan Estates, AZ
Salome, AZ
Seven Mile, AZ
Bylas, AZ
Red Lake, AZ
Golden Shores, AZ
Dilkon, AZ
Pirtleville, AZ
Tubac, AZ
Shongopovi, AZ
Leupp, AZ
Six Shooter Canyon, AZ
Tombstone, AZ
Moenkopi, AZ
Ak-Chin Village, AZ
Bouse, AZ
Kaibab Estates West, AZ
Naco, AZ
Hondah, AZ
Centennial Park, AZ
Wagon Wheel, AZ
Hotevilla-Bacavi, AZ
Kykotsmovi Village, AZ
Strawberry, AZ
Arivaca Junction, AZ
Claypool, AZ
Bluewater, AZ
Fredonia, AZ
Casa Blanca, AZ
Ehrenberg, AZ
Wilhoit, AZ
Houck, AZ
St. Michaels, AZ
Pinon, AZ
Ganado, AZ
Blue Ridge, AZ
Komatke, AZ
Mesa del Caballo, AZ
Gadsden, AZ
Cameron, AZ
Parker Strip, AZ
Rainbow City, AZ
Many Farms, AZ
Rancho Mesa Verde, AZ
Whitecone, AZ
Patagonia, AZ
Arizona Village, AZ
Maricopa Colony, AZ
Sunsites, AZ
Wittmann, AZ
Teec Nos Pos, AZ
Mountainaire, AZ
J-Six Ranchettes, AZ
Nelson, AZ
Chilchinbito, AZ
McNary, AZ
Round Rock, AZ
Dudleyville, AZ
Seligman, AZ
Munds Park, AZ
Aguila, AZ
Miracle Valley, AZ
Brenda, AZ
Ash Fork, AZ
Sonoita, AZ
Burnside, AZ
Dennehotso, AZ
Round Valley, AZ
Duncan, AZ
Sawmill, AZ
Cactus Forest, AZ
Sanders, AZ
Arivaca, AZ
Willow Valley, AZ
Vicksburg, AZ
Circle City, AZ
Yarnell, AZ
Gila Crossing, AZ
Queen Valley, AZ
Red Mesa, AZ
Santa Rosa, AZ
York, AZ

Solomon, AZ
Icehouse Canyon, AZ
El Prado Estates, AZ
Roosevelt Estates, AZ
Tacna, AZ
Tolani Lake, AZ
Upper Santan Village, AZ
Peeples Valley, AZ
Walnut Creek, AZ
Winslow West, AZ
Elephant Head, AZ
Bellemont, AZ
Low Mountain, AZ
Picacho, AZ
Rock Point, AZ
Keams Canyon, AZ
Mesquite Creek, AZ
La Paz Valley, AZ
Turkey Creek, AZ
Cedar Creek, AZ
Gisela, AZ
Wheatfields, AZ
Stanfield, AZ
Sacaton Flats Village, AZ
San Jose, AZ
Greenehaven, AZ
Hayden, AZ
Nazlini, AZ
Tees Toh, AZ
South Komelik, AZ
East Fork, AZ
Fort Thomas, AZ
Clay Springs, AZ
Stotonic Village, AZ
Jerome, AZ
Wall Lane, AZ
Dateland, AZ
Greasewood, AZ
Wenden, AZ
Nutrioso, AZ
Pinedale, AZ
Young, AZ
Wellton Hills, AZ
Chloride, AZ
Drysdale, AZ
Orange Grove Mobile Manor, AZ
Topawa, AZ
Cane Beds, AZ
Rough Rock, AZ
Steamboat, AZ
Central, AZ
Bitter Springs, AZ
Shonto, AZ
Sacate Village, AZ
Winkelman, AZ
Clacks Canyon, AZ
Indian Wells, AZ
So-Hi, AZ
Littlefield, AZ
Pinal, AZ
Bowie, AZ
Kino Springs, AZ
Oak Creek Canyon, AZ
Elfrida, AZ
San Miguel, AZ
Cibola, AZ
Pisinemo, AZ
Chuichu, AZ
Cornfields, AZ
Freedom Acres, AZ
Goodyear Village, AZ
Top-of-the-World, AZ
Tonalea, AZ
Valle, AZ
Oxbow Estates, AZ
Yuma Proving Ground, AZ
Tusayan, AZ
Sunizona, AZ
Del Muerto, AZ
Cottonwood, AZ
Lazy Y U, AZ
East Globe, AZ
McNeal, AZ
Dripping Springs, AZ
Tonto Village, AZ
Haivana Nakya, AZ
Jeddito, AZ
White Hills, AZ
Jakes Corner, AZ
Carrizo, AZ
Hackberry, AZ
Pinion Pines, AZ
Morristown, AZ
Poston, AZ
Deer Creek, AZ
Forest Lakes, AZ
Beaver Valley, AZ
San Simon, AZ
Fort Apache, AZ
Maish Vaya, AZ
Alpine, AZ
Palominas, AZ
Vernon, AZ
Elgin, AZ
Antares, AZ
Ali Chuk, AZ
Crystal Beach, AZ
Hard Rock, AZ
Cutter, AZ
Christopher Creek, AZ
Kaibab, AZ
Klagetoh, AZ
Red Rock, AZ
Mead Ranch, AZ
Gu Oidak, AZ
Whispering Pines, AZ
Katherine, AZ
Pine Lake, AZ
Bryce, AZ
Wet Camp Village, AZ
Sweet Water Village, AZ
Sehili, AZ
Lower Santan Village, AZ
Kohls Ranch, AZ
Arlington, AZ
Shumway, AZ
Nolic, AZ
Kaka, AZ
Tumacacori-Carmen, AZ
Cowlic, AZ
Anegam, AZ
Sun Valley, AZ
Rock House, AZ

Truxton, AZ
Moccasin, AZ
Crozier, AZ
Franklin, AZ
Woodruff, AZ
Seba Dalkai, AZ
Wikieup, AZ
Kleindale, AZ
East Verde Estates, AZ
Washington Park, AZ
Ali Molina, AZ
Why, AZ
Theba, AZ
Yucca, AZ
Campo Bonito, AZ
Ventana, AZ
Santa Cruz, AZ
Mormon Lake, AZ
Copper Hill, AZ
Padre Ranchitos, AZ
Tonopah, AZ
Ali Chukson, AZ
Martinez Lake, AZ
Valentine, AZ
Oatman, AZ
Oak Springs, AZ
Haigler Creek, AZ
Wahak Hotrontk, AZ
Summerhaven, AZ
Amado, AZ
El Capitan, AZ
Rye, AZ
Flowing Springs, AZ
Ko Vaya, AZ
Beyerville, AZ
Hunter Creek, AZ
Alamo Lake, AZ
Lupton, AZ
Oljato-Monument Valley, AZ
Wintersburg, AZ
Mojave Ranch Estates, AZ
Charco, AZ
Wide Ruins, AZ
Roosevelt, AZ
Buckshot, AZ