Portable Restroom Trailers in Haldimand County, ON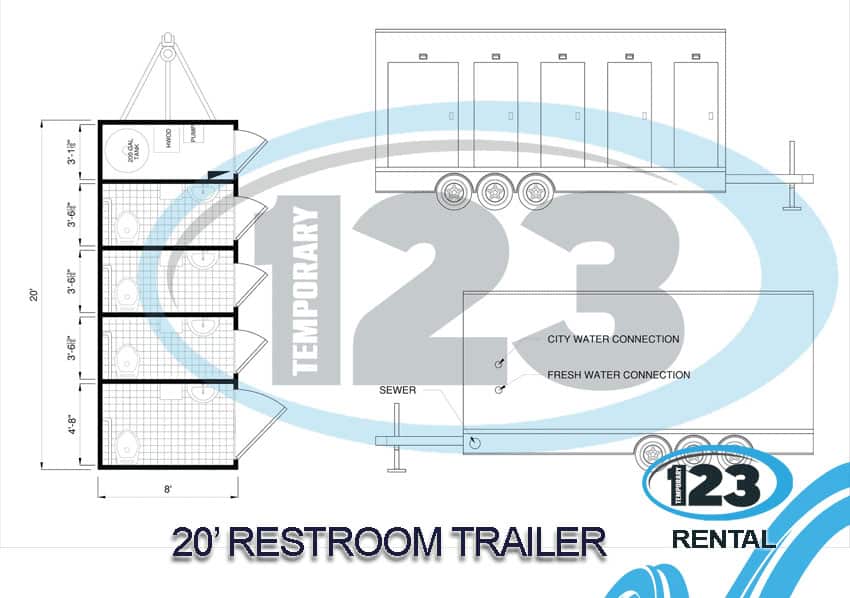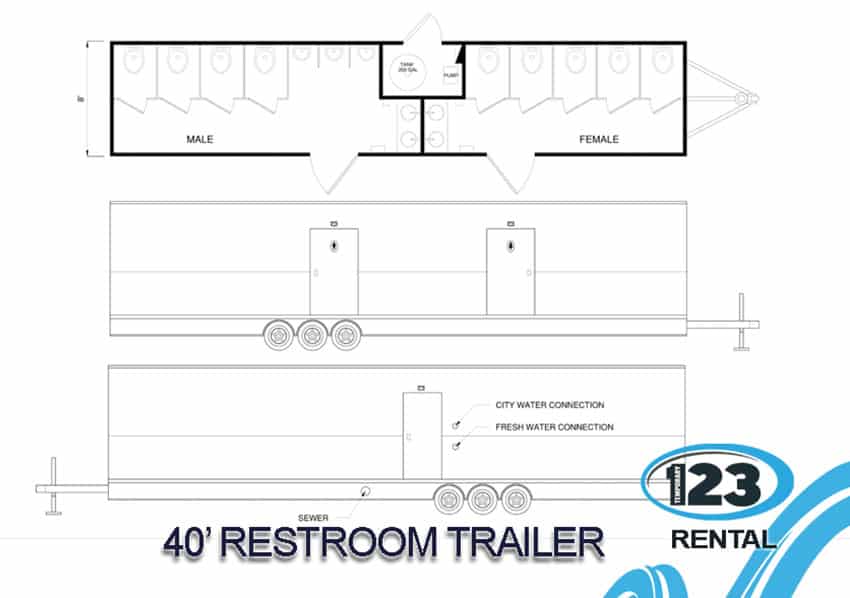 Our Temporary 123 portable restroom trailers in Haldimand County, ON were designed to cater to the needs of the general population. They are adaptable to practically any situation and can be used effectively. They are crafted to have an appealing appearance while still being robust enough to withstand even the most hazardous of public environments. As a result of the company's vast background in the rental of bathroom trailers, Temporary 123 in Haldimand County, ON developed its very own trailers.
We made sure that almost all of the component parts are compatible with items that can be purchased at hardware stores in order to avoid the inconvenience of having to wait for a specialized part to be shipped from the manufacturer in the event that a replacement is required.
Features of our Temporary 123 portable restrooms in Haldimand County, ON for sale or rent:
Easy to install:

Self-leveling stairs slide out in seconds and then automatically level for easy setup on uneven ground or near a curb. Our fold-out railings are quick and easy to deploy, and the stabilizer jack placement makes them totally accessible. The only tool required for setup is a level. 

Easy to clean:

The fiberglass is gel coated for a strong slick surface that repels dirt and is easy to clean with a cloth and household cleaner.

Durability:

All of our portable bathrooms for sale feature or rent feature a steel frame with gel-coated fiberglass on the interior and exterior walls, ceiling, subfloor, and roof.

Easy Maintenance:

Our Temporary 123 portable restroom in Lethbridge was designed to insure minimal maintenance. But when maintenance is required our large mechanical room door allows easy access to all components of the trailer.
Do you think it will be necessary to have portable toilets at your event? Do you require servicing or maintenance for your portable toilet trailer? The Temporary 123 service in Haldimand County, ON will see to your needs. Whether it be for renovations or for special occasions, one simple phone call is all that is required to secure a dependable and speedy sanitation service.
The 123 mobile bathroom trailers in Haldimand County, ON are an ideal choice for meeting the needs of any necessity for portable toilets due to its cleanliness and attractiveness. Our mobile restroom trailers are available in a variety of sizes and layouts, each of which includes urinals, separate stalls for men and women, and other amenities. There are a variety of amenities available, including vanity mirrors, stainless steel sinks, air conditioning, and radio music. 
Each of our portable restrooms includes all of the amenities that are typically found in a standard bathroom. When temperatures are low, heating systems are utilized, and air conditioning systems are utilized in locations when temperatures are high.
The two-station restroom trailer has a tiny footprint, making it easy to set up even in limited places like basements or garages. At this time, anyone of either gender are welcome to make use of the available stalls.
If you select this alternative, you will be provided with access to a four-stall trailer that provides twice the amount of room that the other option does. 
In addition to its eight stalls for toilets, the restroom trailer that we use here at work comes equipped with a combined total of four sinks. When compared to the men's restroom, which only has two urinals and two stalls, the women's restroom in this building has four locked stalls for their use.
The following features distinguish each of our trailers from those of the competition:
Heating and Cooling System in

Haldimand County, ON

Full-size urinals in

Haldimand County, ON

Vanity Mirrors inHaldimand County, ON

Soap Dispensers in

Haldimand County, ON

Hot/Cold Water Faucet in

Haldimand County, ON

Floor-to-ceiling doors in

Haldimand County, ON

Stainless Steel Sinks in

Haldimand County, ON

Seat Covers in

Haldimand County, ON

Stereo Sound System in

Haldimand County, ON
Temporary 123 in Haldimand County, ON maintains a fleet of portable restroom trailers that are not only durable but also aesthetically pleasing. These trailers are ready to take on projects of any scale or level of intricacy.
Areas We Serve In This Area
Toronto, ON
Ottawa, ON
Mississauga, ON
North York, ON
Hamilton, ON
Brampton, ON
Kitchener, ON
London, ON
Windsor, ON
Oshawa, ON
Vaughan, ON
Barrie, ON
Oakville, ON
Burlington, ON
Greater Sudbury, ON
St. Catharines, ON
Cambridge, ON
Guelph, ON
Kingston, ON
Chatham-Kent, ON
Thunder Bay, ON
Waterloo, ON
Pickering, ON
Brantford, ON
Sarnia, ON
Niagara Falls, ON
Peterborough, ON
Sault Ste. Marie, ON
Kawartha Lakes, ON
Norfolk County, ON
Welland, ON
North Bay, ON
Belleville, ON
Cornwall, ON
Haldimand County, ON
Timmins, ON
Quinte West, ON
St. Thomas, ON
Brant, ON
Woodstock, ON
Orangeville, ON
Midland, ON
Leamington, ON
Stratford, ON
Orillia, ON
Prince Edward, ON
Brockville, ON
Owen Sound, ON
Keswick, ON
Clarence-Rockland, ON
Huntsville, ON
Bradford West Gwillimbury, ON
Port Colborne, ON
Thorold, ON
Cobourg, ON
Fort Erie, ON
Collingwood, ON
Pembroke, ON
Kenora, ON
Greater Napanee, ON
Elliot Lake, ON
Hawkesbury, ON
Ingersoll, ON
Amherstburg, ON
Petawawa, ON
Paris, ON
Smiths Falls, ON
Temiskaming Shores, ON
Angus, ON
Bells Corners, ON
Carleton Place, ON
Arnprior, ON
Kapuskasing, ON
Bracebridge, ON
Dryden, ON
Goderich, ON
Renfrew, ON
Fort Frances, ON
Kirkland Lake, ON
Wasaga Beach, ON
Aylmer, ON
Camlachie, ON
Innisfil, ON
Hanover, ON
Perth, ON
Parry Sound, ON
Gravenhurst, ON
Gananoque, ON
Petrolia, ON
Hearst, ON
Espanola, ON
Marathon, ON
Prescott, ON
Shelburne, ON
Deep River, ON
Iroquois Falls, ON
Bancroft, ON
Atikokan, ON
Casselman, ON
Wingham, ON
Mattawa, ON
Deseronto, ON
Englehart, ON
Millbrook, ON
Napanee Downtown, ON
Skatepark, ON
Thessalon, ON
Omemee, ON
Powassan, ON
South River, ON
Bourget, ON