Portable Restroom Trailer in North Bay, ON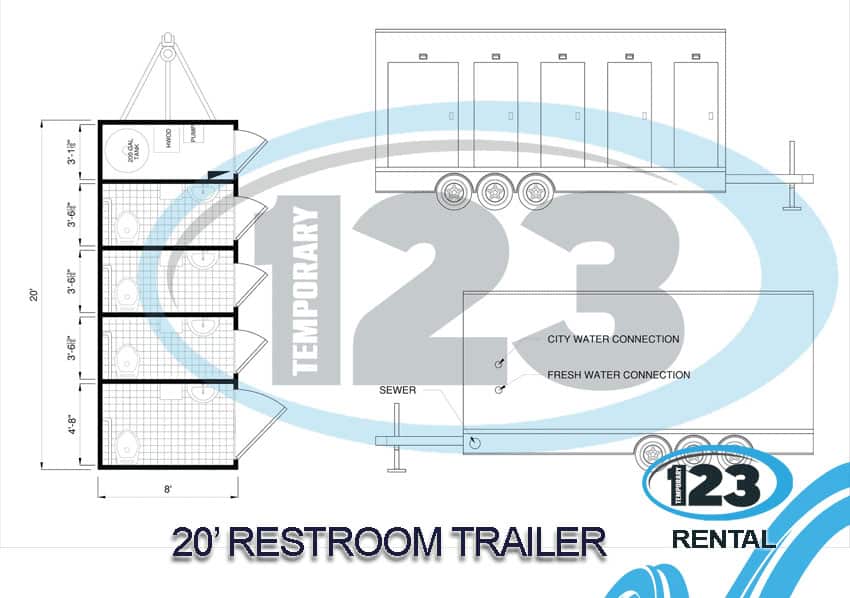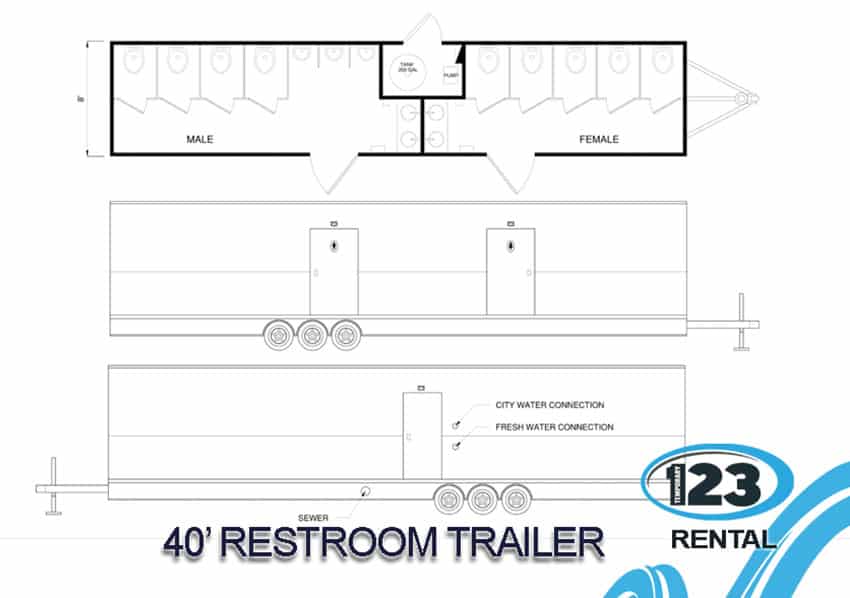 Our Temporary 123 portable restroom trailers in North Bay, ON were created for the benefit of the general population. They work in just about every circumstance. They are made to be attractive enough to be utilized at weddings and strong enough to handle even the most demanding public events. Temporary 123 in North Bay, ON drew on its extensive background in the rental of restroom trailers while designing its distinctive trailers.   
 We also made sure that virtually all of the component parts are compatible with products that are offered at hardware stores in order to prevent having to wait for a proprietary part from the manufacturer in the event that a replacement is necessary.  
Features of our Temporary 123 portable restrooms in North Bay, ON for sale or rent:
Easy to install:

Self-leveling stairs are simple to set up on uneven terrain or next to a curb since they slide out in a matter of seconds and level on their own. Due to the stabilizer jack positioning, our fold-out railings are completely accessible and quick to deploy. A level is the only tool needed for setup. 

Easy to clean:

A robust, smooth surface that repels dirt and is simple to clean with a cloth and common cleaner is created by gel coating the fiberglass.

Durability:

Every single one of our portable restrooms for sale or rental has a steel frame with fiberglass surfaces that have been gel-coated on the interior and external walls, ceiling, flooring, and roof.

Easy Maintenance:

The design of our Temporary 123 portable restroom ensures little upkeep. However, our huge mechanical room door makes it simple to reach any part of the trailer when repair is necessary.
Is a portable restroom option necessary for your specific event? Do you now utilize a restroom trailer that requires upkeep or repairs? You will be taken care of by Temporary 123 in North Bay, ON. A timely and dependable sanitation solution is simply a phone call away when it comes to organizing remodels or special events.
Clean, stylish temporary 123 mobile restroom trailers in North Bay, ON are a great solution for all your portable toilet needs. Our toilet trailers come in larger variants with separate stalls for men and women as well as urinals. featuring amenities like stereo sound, air conditioning, vanity mirrors, and sinks made of stainless steel. 
Our portable restrooms come equipped with all the luxuries of home. For cold regions, heat, and for hot climates, air conditioning
The two-station restroom trailer is compact and simple to set up in small spaces. It features two separate, fully functional restrooms, one for men and one for women. 
Trailer with 4 restroom stations: Selecting this option will give you access to the 4-stall trailer, which has twice as much room. 
Four sinks and eight toilets are included in our eight-station restroom trailer. On the women's side, there are four closed-off stalls, while there are two urinals and two stalls on the men's side. 
Each of our trailers comes with the following amenities that elevate them above the competition:
Heating and Cooling System in North Bay, ON

Full-size urinals in North Bay, ON

Vanity Mirrors in North Bay, ON

Soap Dispensers in North Bay, ON

Hot/Cold Water Faucet in North Bay, ON

Floor-to-ceiling doors inNorth Bay, ON

Stainless Steel Sinks in North Bay, ON

Seat Covers in North Bay, ON

Stereo Sound System in North Bay, ON
No of the size or complexity of your project, Temporary 123 in North Bay, ON will give you access to a fleet of trustworthy, luxurious portable bathroom trailers.
Areas We Serve In This Area
Toronto, ON
Ottawa, ON
Mississauga, ON
North York, ON
Hamilton, ON
Brampton, ON
Kitchener, ON
London, ON
Windsor, ON
Oshawa, ON
Vaughan, ON
Barrie, ON
Oakville, ON
Burlington, ON
Greater Sudbury, ON
St. Catharines, ON
Cambridge, ON
Guelph, ON
Kingston, ON
Chatham-Kent, ON
Thunder Bay, ON
Waterloo, ON
Pickering, ON
Brantford, ON
Sarnia, ON
Niagara Falls, ON
Peterborough, ON
Sault Ste. Marie, ON
Kawartha Lakes, ON
Norfolk County, ON
Welland, ON
North Bay, ON
Belleville, ON
Cornwall, ON
Haldimand County, ON
Timmins, ON
Quinte West, ON
St. Thomas, ON
Brant, ON
Woodstock, ON
Orangeville, ON
Midland, ON
Leamington, ON
Stratford, ON
Orillia, ON
Prince Edward, ON
Brockville, ON
Owen Sound, ON
Keswick, ON
Clarence-Rockland, ON
Huntsville, ON
Bradford West Gwillimbury, ON
Port Colborne, ON
Thorold, ON
Cobourg, ON
Fort Erie, ON
Collingwood, ON
Pembroke, ON
Kenora, ON
Greater Napanee, ON
Elliot Lake, ON
Hawkesbury, ON
Ingersoll, ON
Amherstburg, ON
Petawawa, ON
Paris, ON
Smiths Falls, ON
Temiskaming Shores, ON
Angus, ON
Bells Corners, ON
Carleton Place, ON
Arnprior, ON
Kapuskasing, ON
Bracebridge, ON
Dryden, ON
Goderich, ON
Renfrew, ON
Fort Frances, ON
Kirkland Lake, ON
Wasaga Beach, ON
Aylmer, ON
Camlachie, ON
Innisfil, ON
Hanover, ON
Perth, ON
Parry Sound, ON
Gravenhurst, ON
Gananoque, ON
Petrolia, ON
Hearst, ON
Espanola, ON
Marathon, ON
Prescott, ON
Shelburne, ON
Deep River, ON
Iroquois Falls, ON
Bancroft, ON
Atikokan, ON
Casselman, ON
Wingham, ON
Mattawa, ON
Deseronto, ON
Englehart, ON
Millbrook, ON
Napanee Downtown, ON
Skatepark, ON
Thessalon, ON
Omemee, ON
Powassan, ON
South River, ON
Bourget, ON