Portable Restroom Trailers in Warren, MI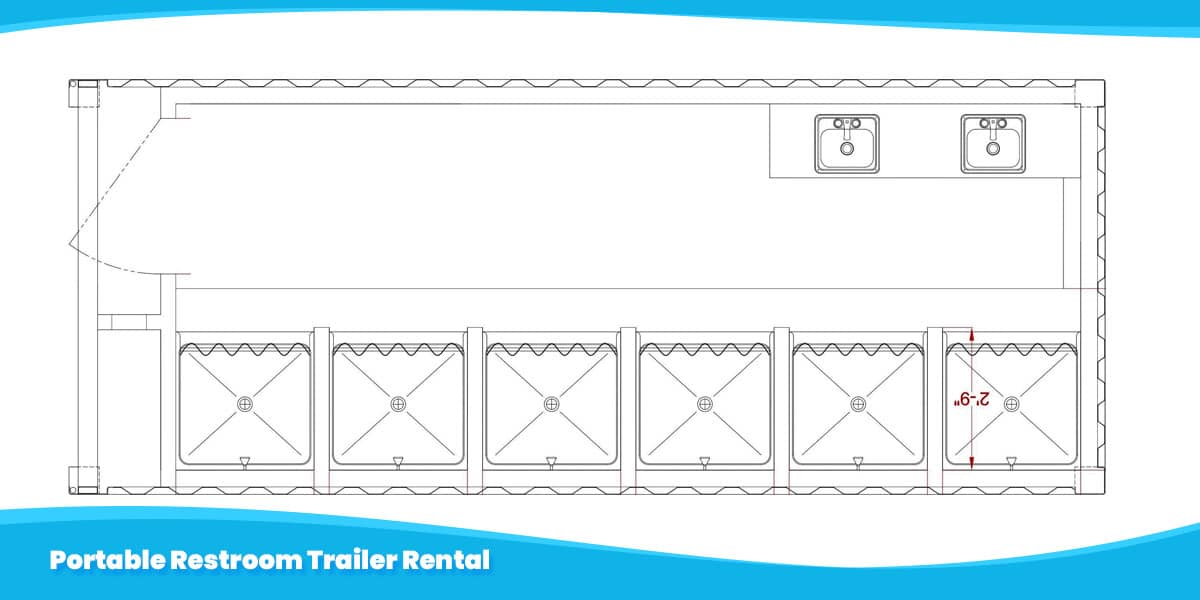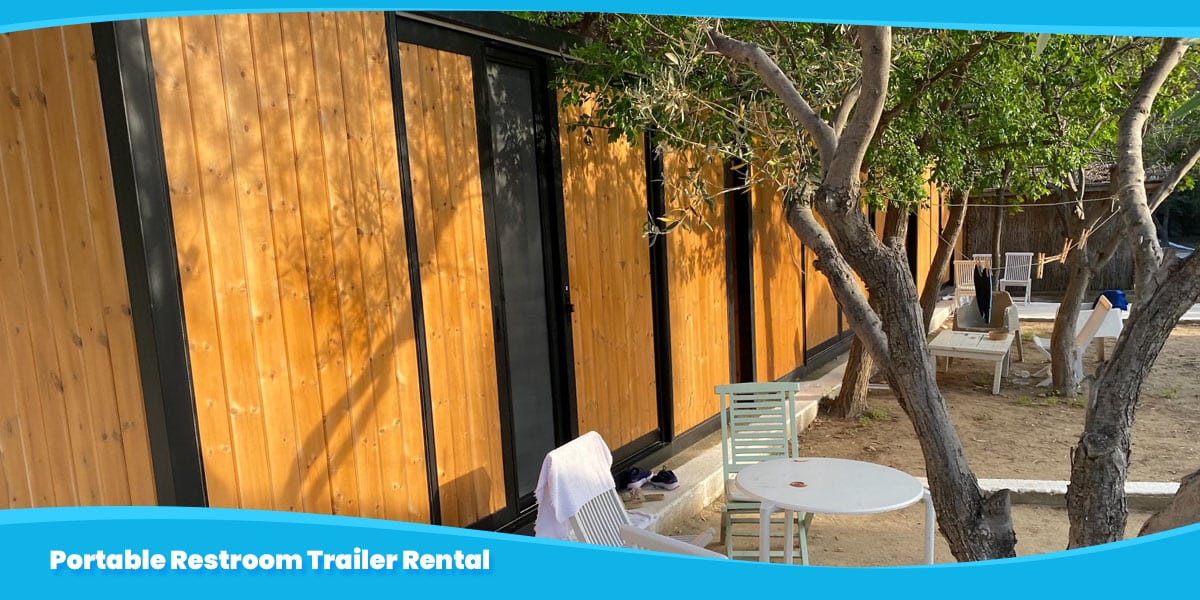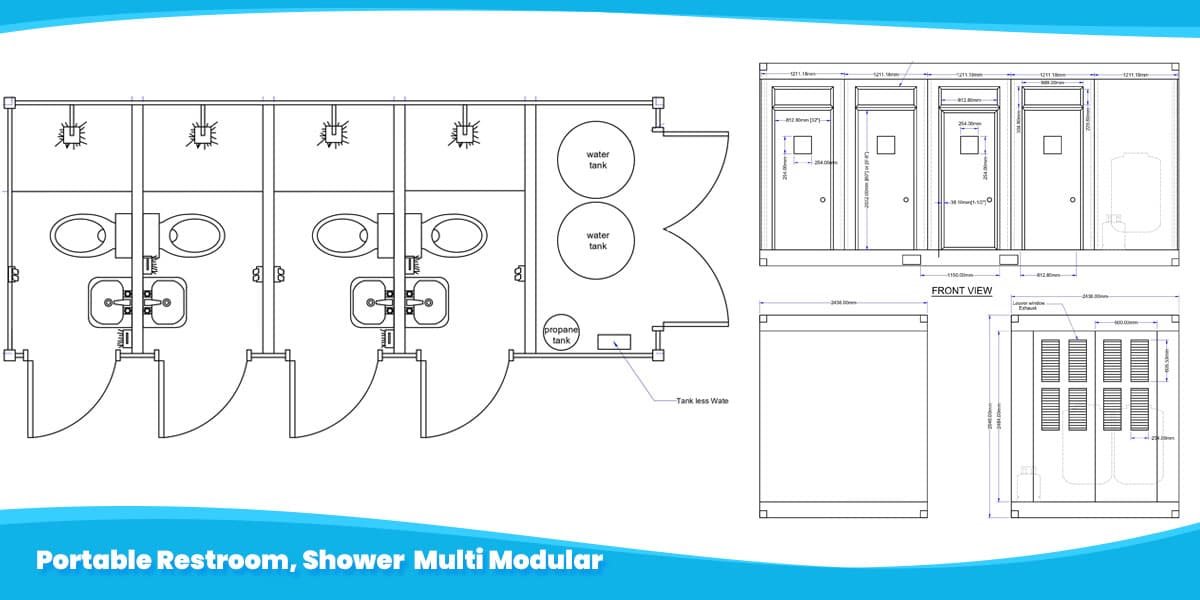 Temporary 123 portable toilet trailers in Warren, MI have been created for public usage. They are intended to be both visually appealing and strong enough to endure even the most dangerous public spaces. Temporary 123 in Warren, MI serves as a substitute. After renting trailers for years, the company decided to build their own.
We verified that almost all of the component parts are interchangeable with those obtainable in hardware shops, eliminating the need to get a proprietary part from the manufacturer if one is necessary.
Features of our Temporary 123 portable restrooms in Warren, MI for sale or rent:
Easy to install:

Because they come out in seconds and automatically level themselves, self-leveling stairs are simple to install on uneven ground or at a curb. Our fold-out rails are straightforward to install, and the position of the stabilizer jack provides full access. The only tool required for setup is a level. 

Easy to clean:

The fiberglass has been gel coated for a long-lasting, smooth surface that repels dirt and is easy to clean with a cloth and household cleaner.

Durability:

All of our portable restrooms for sale or rent include a steel structure as well as gel-coated fiberglass on the interior and outside walls, ceiling, flooring, and roof.

Easy Maintenance:

Our Temporary 123 portable restroom was designed with little maintenance in mind. When repairs are required, our large mechanical room door provides easy access to all trailer components.  
Is it important for your event to have portable toilets? Do you need your restroom trailer serviced or maintained? Temporary 123 in Warren, MI is a low-risk, low-impact maintenance and special event option.
Our portable toilet trailers in Warren, MI are available in a variety of sizes and configurations, including men's and women's stalls and urinals, and provide a clean and appealing solution to any portable toilet requirement, as well as amenities like as audio music, air conditioning, and heating. Heat is utilized in cold regions, whereas air conditioning is used in hot climates.
Our portable restrooms in Warren, MI offer all of the comforts of home. In cold regions, heat is employed, and in hot climates, air conditioning is used. The two-station restroom trailer is small and easy to put up in confined spaces. The men's and women's toilets are now open for business.
You will have access to a four-stall trailer with double the space if you choose this option. Our restroom trailer in Warren, MI has four sinks and eight toilets. There are two urinals and two stalls on the men's side, and four lockable stalls on the women's side.
The following features distinguish each of our trailers from those of the competition: 
Heating and Cooling System in

Warren, MI

Full-size urinals in

Warren, MI

Vanity Mirrors in

Warren, MI

Soap Dispensers in

Warren, MI

Hot/Cold Water Faucet in

Warren, MI

Floor-to-ceiling doors in

Warren, MI

Stainless Steel Sinks in

Warren, MI

Seat Covers in Warren, MI

Stereo Sound System in

Warren, MI
Temporary 123 in Warren, MI has a fleet of strong, beautiful portable restroom trailers that can handle any size or complexity of project.
Temporary Modular Sleeping FacilitiesTemporary Modular Shower Building, Modular Shower Rental, Restroom Building Rentals, Temporary Bunkhouse Sleeper, Temporary Modular Locker Rooms, Modular Locker Room Rental, Temporary Modular Restrooms Rental, Temporary Modular Restroom Buildings, Modular Sleeper Rental, Temporary Modular Sleeper, Bunkhouse Sleepers Rental, Temporary Modular Living Facilities, Modular Living Facilities Rental, Modular Sleeping Facilities Rental.
Addison, MI
Adrian, MI
Akron, MI
Alanson, MI
Albion, MI
Algonac, MI
Allegan, MI
Allen Park, MI
Allen, MI
Allendale, MI
Alma, MI
Almont, MI
Alpena, MI
Ann Arbor, MI
Applegate, MI
Armada, MI
Ashley, MI
Athens, MI
Atlanta, MI
Au Gres, MI
Auburn Hills, MI
Auburn, MI
Augusta, MI
Bad Axe, MI
Baldwin, MI
Bancroft, MI
Bangor, MI
Baraga, MI
Baroda, MI
Barryton, MI
Barton City, MI
Battle Creek, MI
Bay City, MI
Bear Lake, MI
Beaverton, MI
Belding, MI
Bellaire, MI
Belleville, MI
Bellevue, MI
Benton Harbor, MI
Benzonia, MI
Berkley, MI
Berrien Springs, MI
Bessemer, MI
Beulah, MI
Big Bay, MI
Big Rapids, MI
Birch Run, MI
Birmingham, MI
Blissfield, MI
Bloomfield Hills, MI
Bloomingdale, MI
Boyne City, MI
Boyne Falls, MI
Breckenridge, MI
Breedsville, MI
Bridgeport, MI
Bridgman, MI
Brighton, MI
Britton, MI
Bronson, MI
Brooklyn, MI
Brown City, MI
Buchanan, MI
Buckley, MI
Burlington, MI
Burr Oak, MI
Burt, MI
Burton, MI
Byron Center, MI
Byron, MI
Cadillac, MI
Caledonia, MI
Calumet, MI
Camden, MI
Canton, MI
Capac, MI
Carleton, MI
Carney, MI
Caro, MI
Carrollton, MI
Carson City, MI
Carsonville, MI
Caseville, MI
Casnovia, MI
Caspian, MI
Cass City, MI
Cassopolis, MI
Cedar Springs, MI
Cement City, MI
Center Line, MI
Central Lake, MI
Centreville, MI
Charlevoix, MI
Charlotte, MI
Chatham, MI
Cheboygan, MI
Chelsea, MI
Chesaning, MI
Clare, MI
Clarksville, MI
Clawson, MI
Clayton, MI
Clifford, MI
Climax, MI
Clinton, MI
Clio, MI
Coldwater, MI
Coloma, MI
Colon, MI
Columbiaville, MI
Comstock Park, MI
Concord, MI
Constantine, MI
Coopersville, MI
Copemish, MI
Copper City, MI
Corunna, MI
Croswell, MI
Crystal Falls, MI
Custer, MI
Daggett, MI
Dansville, MI
Davison, MI
De Tour Village, MI
Dearborn Heights, MI
Dearborn, MI
Decatur, MI
Deckerville, MI
Deerfield, MI
Detroit, MI
Dewitt, MI
Dexter, MI
Dimondale, MI
Douglas, MI
Dowagiac, MI
Dryden, MI
Dundee, MI
Durand, MI
East Jordan, MI
East Lansing, MI
East Tawas, MI
Eastlake, MI
Eastpointe, MI
Eaton Rapids, MI
Eau Claire, MI
Ecorse, MI
Edmore, MI
Edwardsburg, MI
Elberta, MI
Elk Rapids, MI
Elkton, MI
Ellsworth, MI
Elsie, MI
Emmett, MI
Empire, MI
Escanaba, MI
Essexville, MI
Evart, MI
Fairgrove, MI
Farmington, MI
Farwell, MI
Fennville, MI
Fenton, MI
Ferndale, MI
Ferrysburg, MI
Fife Lake, MI
Flat Rock, MI
Flint, MI
Flushing, MI
Fowler, MI
Fowlerville, MI
Frankenmuth, MI
Frankfort, MI
Franklin, MI
Fraser, MI
Freeland, MI
Freeport, MI
Fremont, MI
Fruitport, MI
Gaastra, MI
Gagetown, MI
Gaines, MI
Galesburg, MI
Galien, MI
Garden City, MI
Garden, MI
Gaylord, MI
Gladstone, MI
Gladwin, MI
Gobles, MI
Goodrich, MI
Grand Blanc, MI
Grand Haven, MI
Grand Ledge, MI
Grand Rapids, MI
Grandville, MI
Grant, MI
Grass Lake, MI
Grayling, MI
Greenville, MI
Grosse Ile, MI
Grosse Pointe, MI
Gwinn, MI
Hamtramck, MI
Hancock, MI
Hanover, MI
Harbor Beach, MI
Harbor Springs, MI
Harper Woods, MI
Harrison, MI
Harrisville, MI
Hart, MI
Hartford, MI
Haslett, MI
Hastings, MI
Hazel Park, MI
Hemlock, MI
Hersey, MI
Hesperia, MI
Highland Park, MI
Hillman, MI
Hillsdale, MI
Holland, MI
Holly, MI
Holt, MI
Homer, MI
Honor, MI
Hopkins, MI
Houghton Lake, MI
Houghton, MI
Howard City, MI
Howell, MI
Hubbard Lake, MI
Hubbardston, MI
Hubbell, MI
Hudson, MI
Hudsonville, MI
Huntington Woods, MI
Imlay City, MI
Indian River, MI
Inkster, MI
Ionia, MI
Iron Mountain, MI
Iron River, MI
Ironwood, MI
Ishpeming, MI
Ithaca, MI
Jackson, MI
Jenison, MI
Jonesville, MI
Kalamazoo, MI
Kaleva, MI
Kalkaska, MI
Keego Harbor, MI
Kent City, MI
Kinde, MI
Kingsford, MI
Kingsley, MI
Kingston, MI
Laingsburg, MI
Lake Ann, MI
Lake City, MI
Lake Linden, MI
Lake Odessa, MI
Lake Orion, MI
Lakeview, MI
Lambertville, MI
Lansing, MI
Lapeer, MI
Lawrence, MI
Lawton, MI
Lennon, MI
Leonard, MI
Leslie, MI
Lewiston, MI
Lexington, MI
Lincoln Park, MI
Lincoln, MI
Linden, MI
Litchfield, MI
Livonia, MI
Lowell, MI
Ludington, MI
Luna Pier, MI
Luther, MI
Lyons, MI
Mackinac Island, MI
Mackinaw City, MI
Madison Heights, MI
Mancelona, MI
Manchester, MI
Manistee, MI
Manistique, MI
Manitou Beach, MI
Manton, MI
Maple Rapids, MI
Marcellus, MI
Marine City, MI
Marion, MI
Marlette, MI
Marquette, MI
Marshall, MI
Martin, MI
Marysville, MI
Mason, MI
Mattawan, MI
Maybee, MI
Mayville, MI
Mc Bain, MI
Mcbrides, MI
Mecosta, MI
Melvindale, MI
Memphis, MI
Mendon, MI
Menominee, MI
Merrill, MI
Mesick, MI
Metamora, MI
Michigamme, MI
Michigan Center, MI
Middleton, MI
Middleville, MI
Midland, MI
Milan, MI
Milford, MI
Millersburg, MI
Millington, MI
Minden City, MI
Mio, MI
Monroe, MI
Montague, MI
Montgomery, MI
Montrose, MI
Morenci, MI
Morley, MI
Morrice, MI
Mount Clemens, MI
Mount Morris, MI
Mount Pleasant, MI
Muir, MI
Mulliken, MI
Munising, MI
Muskegon, MI
Napoleon, MI
Nashville, MI
Negaunee, MI
New Baltimore, MI
New Buffalo, MI
New Era, MI
New Haven, MI
New Lothrop, MI
Newaygo, MI
Newberry, MI
Niles, MI
North Adams, MI
North Branch, MI
Northport, MI
Northville, MI
Norway, MI
Novi, MI
Oak Park, MI
Oakley, MI
Okemos, MI
Olivet, MI
Omer, MI
Onaway, MI
Onekama, MI
Onsted, MI
Ontonagon, MI
Ortonville, MI
Oscoda, MI
Ossineke, MI
Otisville, MI
Otsego, MI
Otter Lake, MI
Ovid, MI
Owendale, MI
Owosso, MI
Oxford, MI
Palmer, MI
Parma, MI
Paw Paw, MI
Peck, MI
Pellston, MI
Pentwater, MI
Perrinton, MI
Perry, MI
Petersburg, MI
Petoskey, MI
Pewamo, MI
Pigeon, MI
Pinckney, MI
Pinconning, MI
Plainwell, MI
Pleasant Ridge, MI
Plymouth, MI
Pontiac, MI
Port Austin, MI
Port Hope, MI
Port Huron, MI
Port Sanilac, MI
Portage, MI
Portland, MI
Posen, MI
Potterville, MI
Powers, MI
Prescott, MI
Prudenville, MI
Quincy, MI
Quinnesec, MI
Ravenna, MI
Reading, MI
Redford, MI
Reed City, MI
Reese, MI
Republic, MI
Richland, MI
Richmond, MI
River Rouge, MI
Rochester, MI
Rockford, MI
Rockwood, MI
Rogers City, MI
Romeo, MI
Romulus, MI
Roscommon, MI
Rose City, MI
Rosebush, MI
Roseville, MI
Rothbury, MI
Royal Oak, MI
Saginaw, MI
Saint Charles, MI
Saint Clair Shores, MI
Saint Clair, MI
Saint Helen, MI
Saint Ignace, MI
Saint Johns, MI
Saint Joseph, MI
Saint Louis, MI
Saline, MI
Sand Lake, MI
Sandusky, MI
Sanford, MI
Saranac, MI
Saugatuck, MI
Sault Sainte Marie, MI
Schoolcraft, MI
Scottville, MI
Sebewaing, MI
Shelby, MI
Shepherd, MI
Sheridan, MI
Sherwood, MI
South Haven, MI
South Lyon, MI
South Range, MI
South Rockwood, MI
Southfield, MI
Southgate, MI
Sparta, MI
Spring Arbor, MI
Spring Lake, MI
Springport, MI
Stambaugh, MI
Standish, MI
Stanton, MI
Stanwood, MI
Stephenson, MI
Sterling Heights, MI
Sterling, MI
Stevensville, MI
Stockbridge, MI
Sturgis, MI
Sunfield, MI
Suttons Bay, MI
Swartz Creek, MI
Tawas City, MI
Taylor, MI
Tecumseh, MI
Tekonsha, MI
Temperance, MI
Thompsonville, MI
Three Oaks, MI
Three Rivers, MI
Traverse City, MI
Trenton, MI
Troy, MI
Tustin, MI
Twin Lake, MI
Ubly, MI
Union City, MI
Unionville, MI
Utica, MI
Vandalia, MI
Vanderbilt, MI
Vassar, MI
Vermontville, MI
Vernon, MI
Vicksburg, MI
Wakefield, MI
Waldron, MI
Walkerville, MI
Walled Lake, MI
Warren, MI
Waterford, MI
Watervliet, MI
Wayland, MI
Wayne, MI
Webberville, MI
Weidman, MI
West Bloomfield, MI
West Branch, MI
Westphalia, MI
Wetmore, MI
White Cloud, MI
White Pigeon, MI
Whitehall, MI
Whitmore Lake, MI
Whittemore, MI
Williamston, MI
Wixom, MI
Wolverine, MI
Woodland, MI
Wyandotte, MI
Yale, MI
Ypsilanti, MI
Zeeland, MI