Portable Restroom Trailers in Salina, KS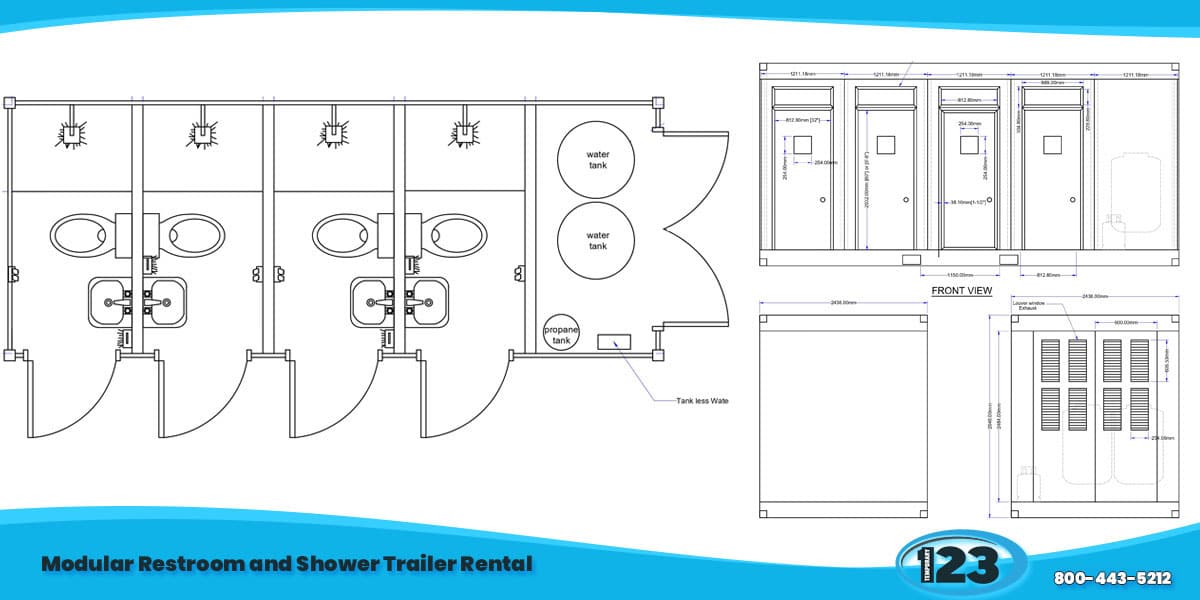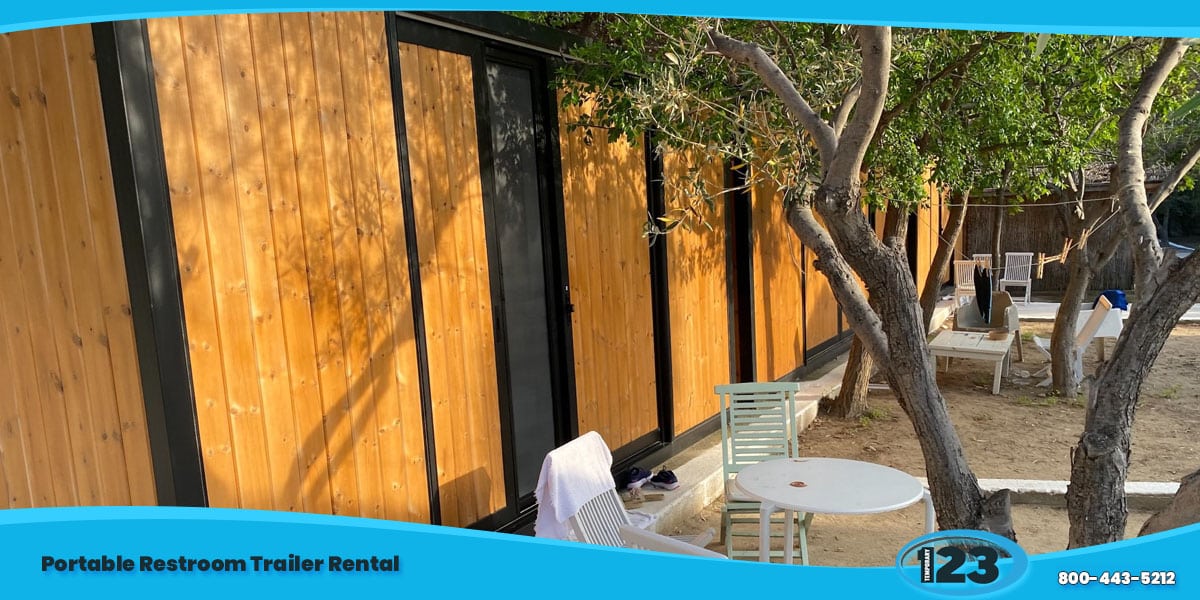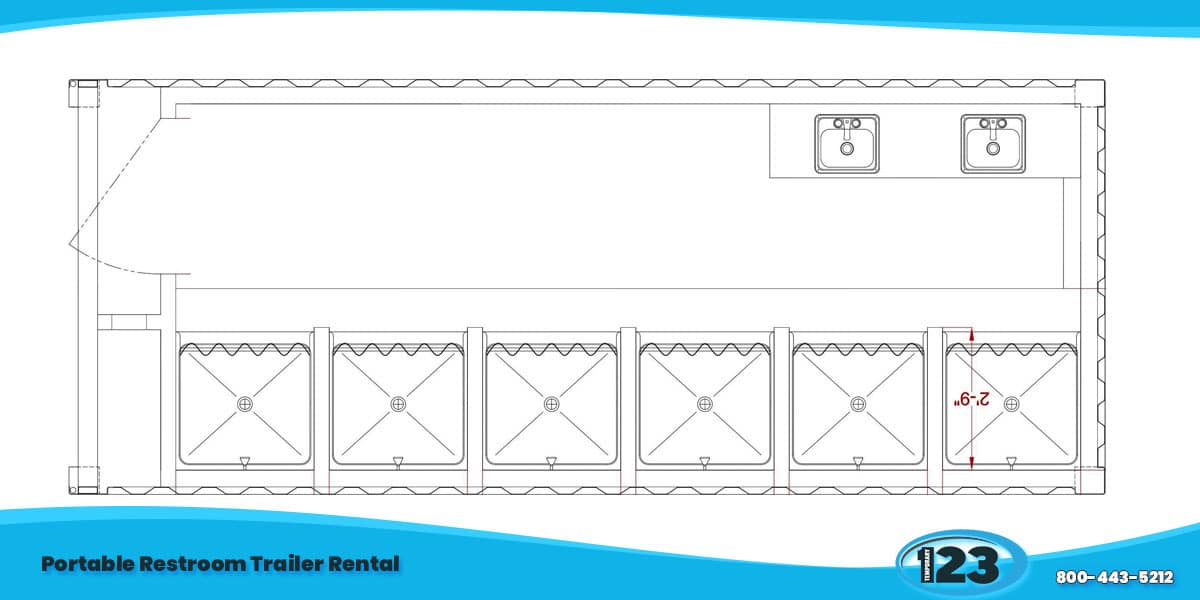 Our Temporary 123 portable restroom trailers in Salina, KS were designed with the needs of the general people in mind. They are effective when employed and can operate in almost any setting. They are made to be beautiful and strong enough to withstand even the riskiest public spaces. The task was carried out carefully and expertly. Due to its considerable experience in the field of renting portable restrooms and other trailers, Temporary 123 in Salina, KS created its very own trailers.
We designed it so that almost all of the component parts are compatible with stuff that can be purchased from hardware stores to reduce the hassle of having to wait for a specialty part to be supplied from the manufacturer in the event that a replacement is necessary. We did this to prevent having to wait for a replacement.
Features of our Temporary 123 portable restrooms in Salina, KS for sale or rent: 
Easy to install:

Self-leveling stairs slide out in seconds and then automatically level for easy setup on uneven ground or near a curb. Our fold-out railings are quick and easy to deploy, and the stabilizer jack placement makes them totally accessible. The only tool required for setup is a level. 

Easy to clean:

The fiberglass is gel coated for a strong slick surface that repels dirt and is easy to clean with a cloth and household cleaner.

Durability:

All of our portable bathrooms for sale feature or rent feature a steel frame with gel-coated fiberglass on the interior and exterior walls, ceiling, subfloor, and roof.

Easy Maintenance:

Our Temporary 123 portable restroom was designed to insure minimal maintenance. But when maintenance is required our large mechanical room door allows easy access to all components of the trailer.
Is employing portable restrooms absolutely necessary for your specific event? Do you currently utilize a portable bathroom that requires upkeep or repairs? You will be taken care of by Temporary 123 in Salina, KS. A timely and dependable sanitation solution is merely a phone call away when organizing remodels or special events.
The sleek, modern temporary mobile restroom trailers from 123 are a fantastic option for all of your portable restroom needs. Our toilet trailers come in larger sizes with separate stalls for men and women as well as urinals. offer modern luxuries like air conditioning, stereos, and stainless steel sinks 
Our portable restrooms come equipped with all the luxuries of home. In cold climates, heat is used, and in hot climates, air conditioning is employed. The two-station restroom trailer is transportable and simple to put up in locations with limited space. There are separate, functional restrooms for men and women.  A restroom trailer with four stalls: By selecting this, you can enter the 4-stall trailer, which has twice as much space. Four sinks and eight toilets are included in our eight-station restroom trailer. On the men's side, there are two urinals and two stalls, while the women's side has four closed-off stalls. 
The following features distinguish each of our trailers from those of the competition: 
Heating and Cooling System in

Salina, KS

Full-size urinals in

Salina, KS

Vanity Mirrors in

Salina, KS

Soap Dispensers in Salina, KS

Hot/Cold Water Faucet in

Salina, KS

Floor-to-ceiling doors in

Salina, KS

Stainless Steel Sinks in

Salina, KS

Seat Covers in

Salina, KS

Stereo Sound System in

Salina, KS
In addition to being sturdy, Temporary 123's portable restroom trailers in Salina, KS are also aesthetically pleasing. These trailers are prepared to undertake tasks of any complexity or scale.
Restroom Building Rentals, Temporary Modular Shower Building, Modular Shower Rental, Temporary Bunkhouse Sleeper, Temporary Modular Locker Rooms, Modular Locker Room Rental, Temporary Modular Restrooms Rental, Temporary Modular Restroom Buildings, Modular Sleeper Rental, Temporary Modular Sleeper, Bunkhouse Sleepers Rental, Temporary Modular Living Facilities, Modular Living Facilities Rental, Modular Sleeping Facilities Rental, Temporary Modular Sleeping Facilities.
Abilene, KS
Agra, KS
Allen, KS
Alma, KS
Almena, KS
Alta Vista, KS
Altamont, KS
Altoona, KS
Americus, KS
Andale, KS
Andover, KS
Arcadia, KS
Argonia, KS
Arkansas City, KS
Arlington, KS
Arma, KS
Ashland, KS
Assaria, KS
Atchison, KS
Atlanta, KS
Attica, KS
Atwood, KS
Auburn, KS
Augusta, KS
Axtell, KS
Baldwin City, KS
Basehor, KS
Baxter Springs, KS
Bazine, KS
Beattie, KS
Belle Plaine, KS
Belleville, KS
Beloit, KS
Belvue, KS
Bennington, KS
Bentley, KS
Benton, KS
Bern, KS
Bird City, KS
Bison, KS
Blue Mound, KS
Blue Rapids, KS
Bonner Springs, KS
Brewster, KS
Bronson, KS
Brookville, KS
Bucklin, KS
Buffalo, KS
Buhler, KS
Burden, KS
Burdett, KS
Burlingame, KS
Burlington, KS
Burns, KS
Burr Oak, KS
Burrton, KS
Bushton, KS
Caldwell, KS
Caney, KS
Canton, KS
Carbondale, KS
Cawker City, KS
Cedar Vale, KS
Centralia, KS
Chanute, KS
Chapman, KS
Chase, KS
Cheney, KS
Cherokee, KS
Cherryvale, KS
Chetopa, KS
Cimarron, KS
Claflin, KS
Clay Center, KS
Clearwater, KS
Clifton, KS
Clyde, KS
Coffeyville, KS
Colby, KS
Coldwater, KS
Colony, KS
Columbus, KS
Colwich, KS
Concordia, KS
Conway Springs, KS
Copeland, KS
Cottonwood Falls, KS
Council Grove, KS
Courtland, KS
Cuba, KS
Cunningham, KS
De Soto, KS
Dearing, KS
Deerfield, KS
Delphos, KS
Denison, KS
Derby, KS
Dexter, KS
Dighton, KS
Dodge City, KS
Dorrance, KS
Douglass, KS
Downs, KS
Dwight, KS
Easton, KS
Edgerton, KS
Edna, KS
Edwardsville, KS
Effingham, KS
El Dorado, KS
Elbing, KS
Elk City, KS
Elkhart, KS
Ellis, KS
Ellsworth, KS
Elwood, KS
Emmett, KS
Emporia, KS
Ensign, KS
Enterprise, KS
Erie, KS
Eskridge, KS
Eudora, KS
Eureka, KS
Everest, KS
Fairview, KS
Florence, KS
Ford, KS
Fort Riley, KS
Fort Scott, KS
Fowler, KS
Frankfort, KS
Fredonia, KS
Frontenac, KS
Galena, KS
Galva, KS
Garden City, KS
Garden Plain, KS
Gardner, KS
Garnett, KS
Gas, KS
Geneseo, KS
Geuda Springs, KS
Girard, KS
Glasco, KS
Glen Elder, KS
Goddard, KS
Goessel, KS
Goodland, KS
Gorham, KS
Grainfield, KS
Great Bend, KS
Greeley, KS
Greenleaf, KS
Greensburg, KS
Grenola, KS
Gridley, KS
Grinnell, KS
Gypsum, KS
Halstead, KS
Hamilton, KS
Hanover, KS
Hanston, KS
Harper, KS
Hartford, KS
Harveyville, KS
Haven, KS
Haviland, KS
Hays, KS
Haysville, KS
Herington, KS
Hesston, KS
Hiawatha, KS
Highland, KS
Hill City, KS
Hillsboro, KS
Hoisington, KS
Holcomb, KS
Holton, KS
Holyrood, KS
Hope, KS
Horton, KS
Howard, KS
Hoxie, KS
Hoyt, KS
Hugoton, KS
Humboldt, KS
Hutchinson, KS
Independence, KS
Ingalls, KS
Inman, KS
Iola, KS
Jamestown, KS
Jetmore, KS
Jewell, KS
Johnson, KS
Junction City, KS
Kanopolis, KS
Kanorado, KS
Kansas City, KS
Kechi, KS
Kensington, KS
Kingman, KS
Kinsley, KS
Kiowa, KS
Kirwin, KS
Kismet, KS
La Crosse, KS
La Cygne, KS
La Harpe, KS
Lakin, KS
Lancaster, KS
Lane, KS
Lansing, KS
Larned, KS
Lawrence, KS
Le Roy, KS
Leavenworth, KS
Leawood, KS
Lebanon, KS
Lebo, KS
Lecompton, KS
Lehigh, KS
Lenexa, KS
Lenora, KS
Leon, KS
Leonardville, KS
Leoti, KS
Lewis, KS
Liberal, KS
Lincoln, KS
Lincolnville, KS
Lindsborg, KS
Linn, KS
Linwood, KS
Little River, KS
Logan, KS
Longton, KS
Louisburg, KS
Lucas, KS
Luray, KS
Lyndon, KS
Lyons, KS
Macksville, KS
Madison, KS
Maize, KS
Manhattan, KS
Mankato, KS
Maple Hill, KS
Marion, KS
Marquette, KS
Marysville, KS
Mayetta, KS
Mc Cracken, KS
Mc Cune, KS
Mc Farland, KS
Mc Louth, KS
Mcpherson, KS
Meade, KS
Medicine Lodge, KS
Melvern, KS
Meriden, KS
Milford, KS
Miltonvale, KS
Minneapolis, KS
Minneola, KS
Mission, KS
Moline, KS
Montezuma, KS
Moran, KS
Morrill, KS
Moscow, KS
Mound Valley, KS
Moundridge, KS
Mount Hope, KS
Mulberry, KS
Mullinville, KS
Mulvane, KS
Natoma, KS
Neodesha, KS
Ness City, KS
Newton, KS
Nickerson, KS
North Newton, KS
Norton, KS
Nortonville, KS
Norwich, KS
Oakley, KS
Oberlin, KS
Offerle, KS
Ogden, KS
Olathe, KS
Olpe, KS
Onaga, KS
Osage City, KS
Osawatomie, KS
Osborne, KS
Oskaloosa, KS
Oswego, KS
Otis, KS
Ottawa, KS
Overbrook, KS
Overland Park, KS
Oxford, KS
Ozawkie, KS
Palco, KS
Paola, KS
Park, KS
Parker, KS
Parsons, KS
Partridge, KS
Pawnee Rock, KS
Paxico, KS
Peabody, KS
Perry, KS
Phillipsburg, KS
Pittsburg, KS
Plains, KS
Plainville, KS
Pleasanton, KS
Pomona, KS
Potwin, KS
Prairie Village, KS
Pratt, KS
Prescott, KS
Pretty Prairie, KS
Princeton, KS
Protection, KS
Quenemo, KS
Quinter, KS
Ransom, KS
Rantoul, KS
Reading, KS
Richmond, KS
Riley, KS
Robinson, KS
Rolla, KS
Rose Hill, KS
Rossville, KS
Russell, KS
Sabetha, KS
Saint Francis, KS
Saint George, KS
Saint John, KS
Saint Marys, KS
Saint Paul, KS
Salina, KS
Satanta, KS
Scammon, KS
Scandia, KS
Schoenchen, KS
Scott City, KS
Scranton, KS
Sedan, KS
Sedgwick, KS
Selden, KS
Seneca, KS
Severy, KS
Sharon Springs, KS
Sharon, KS
Shawnee, KS
Silver Lake, KS
Smith Center, KS
Solomon, KS
South Haven, KS
South Hutchinson, KS
Spearville, KS
Spring Hill, KS
Stafford, KS
Sterling, KS
Stockton, KS
Strong City, KS
Sublette, KS
Summerfield, KS
Sylvan Grove, KS
Sylvia, KS
Syracuse, KS
Tescott, KS
Thayer, KS
Tipton, KS
Tonganoxie, KS
Topeka, KS
Toronto, KS
Towanda, KS
Tribune, KS
Troy, KS
Udall, KS
Ulysses, KS
Uniontown, KS
Utica, KS
Valley Center, KS
Valley Falls, KS
Victoria, KS
Viola, KS
Wa Keeney, KS
Wakefield, KS
Walnut, KS
Walton, KS
Wamego, KS
Washington, KS
Waterville, KS
Wathena, KS
Waverly, KS
Weir, KS
Wellington, KS
Wellsville, KS
West Mineral, KS
Westmoreland, KS
Wetmore, KS
White City, KS
White Cloud, KS
Whitewater, KS
Whiting, KS
Wichita, KS
Williamsburg, KS
Wilson, KS
Winchester, KS
Winfield, KS
Winona, KS
Woodbine, KS
Yates Center, KS